ZionCare is a platform that collects medical-grade patient data for sleep health monitoring. It allows clinicians to deliver a higher quality of care to more patients and avoid unnecessary in-person visits for patients. It is recommended by leading somnologists, sleep specialists, and clinicians and used by people worldwide for accurate oxygen saturation (SpO2) recordings.
It is a user-friendly app that turns complex sleep health test results into visual and easily understood data for self-check.
It is designed for continuous blood oxygen level, pulse rate, and respiratory rate monitoring at your wrist without a traditional fingertip probe.
Oxygen Saturation: 70~100%, +/- 3%
Pulse Rate: 40~240 bpm, +/- 3 bpm
Respiratory Rate: 4~40 rpm, +/- 1 rpm
FDA-cleared in TW, US and AUS
CE Mark Certified
It is a HIPAA compliant web-based portal that gives clinicians access to monitor their patients' oxygen saturation, pulse rate, and respiration rate remotely anytime, anywhere. The continuous monitoring of big data helps to support clinical decision making.
You can pick up a wearable device at one of our partner clinics, stores, or dealers, or click the button below to participate in our home sleep test program.
Download ZionCare App and complete registration. Sleep at your own bed as usual with the wearable on.
Quick analysis & treatment
You can check your sleeping data on ZionCare App after sync-up. Your doctor can review it on ZionCare web-portal and recommend treatment options.
You can continue to monitor your sleeping data using our ZionCare platform and discuss with your doctor on your treatment progress for continuous improvement.
ACCESS YOUR SLEEP ANALYSIS RECORDS
The sleep analysis records include oxygen saturation, pulse rate, and respiratory rate data during your sleep and these data are used to calculate key indexes like ODI (Oxygen Desaturation Index), T88 (percentage of cumulative time during sleep with oximetry below 88) to detect sleep apnea.
MULTI-NIGHT DATA TRACKING
Various trend charts will help you to track your conditions, symptoms, and treatment progress capturing internight variability.
SAVE OR SHARE YOUR METRICS
Send your professional report (in pdf) to your doctor, sleeping specialists, or your family members to keep them informed on your sleeping condition.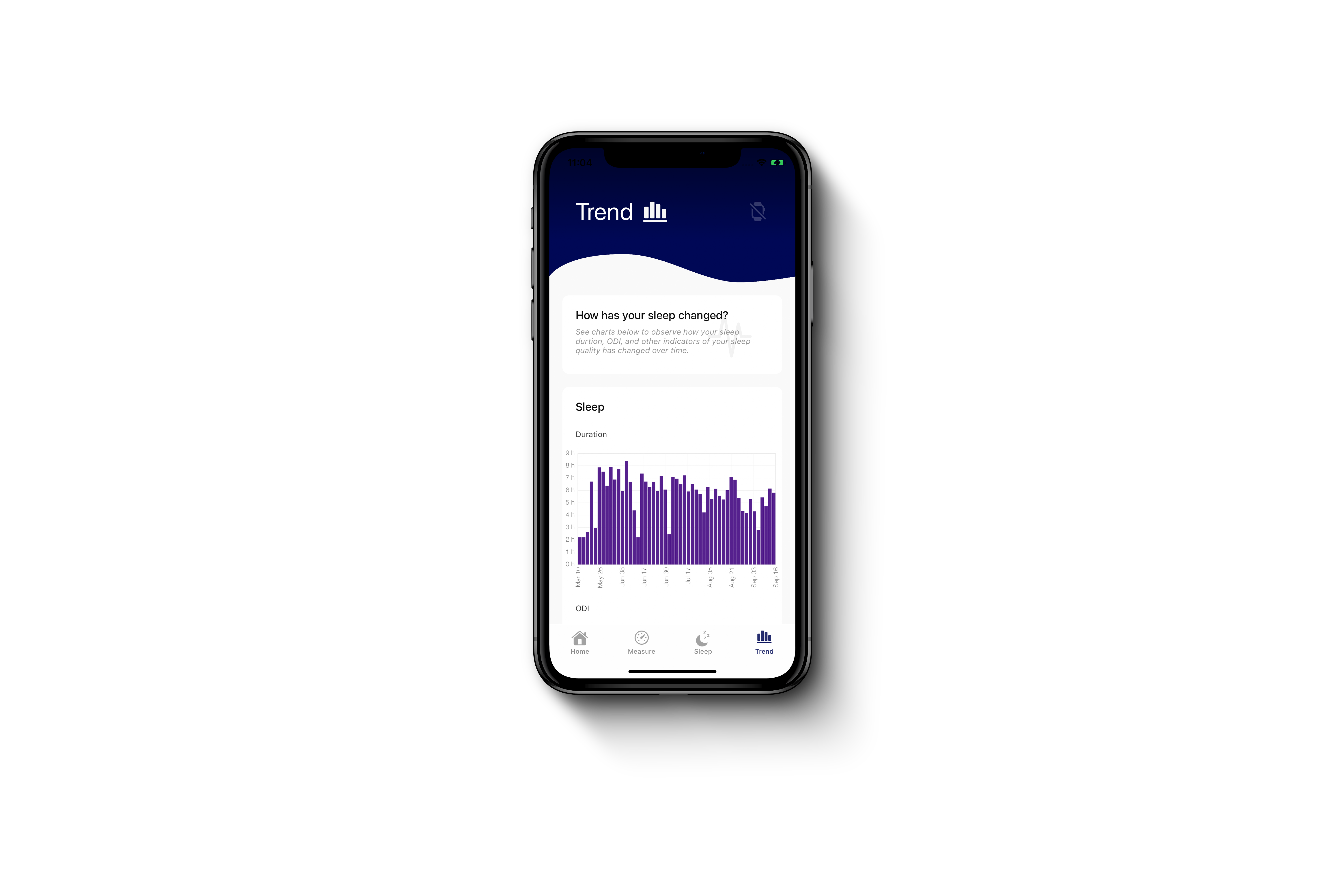 ZionCare App Sleep Health Report
The basic information that the patient fills in when registering an account.
The data and analysis covered in this sleep health report, and in order to conform to the sleeping habits of the general public, we have changed the day at 12:00 noon to distinguish the daily sleep health report.

If the sleep time is earlier than 12:00 noon, it will be regarded as the sleep record of the previous day, otherwise it will be the sleep record of the day.
When there are multiple sleep records on the same day and the interval exceeds 1 hour, the data with the longest sleep time will be automatically screened as the main sleep record of the day.
If the interval between multiple sleep records is less than 1 hour, ZionCare's algorithm will treat it as continuous sleep and combine the sleep records for analysis.
In order to improve the accuracy of sleep data analysis, the minimum analysis time required for data reported by daily sleep records is 2 hours. Sleep less than 2 hours will be regarded as invalid data and will not be counted.
The ZionCare wearable device will determine whether you are in a sleep state based on your activity intensity and heart rate. Some behaviors during sleep, such as getting up, dreaming, muscle twitching, etc., may all be reflected in the sleep data. ZionCare's sleep hypoxia detection The program can provide you with professional report interpretation.

You can participate in ZionCare's sleep hypoxia detection program for multiple days of observation, and then add samples to confirm the actual sleep rating.
ODI 3% is the number of times the blood oxygen concentration drops by 3% per hour, and it is also the number of hypoxia per hour. It is one of the important indicators for judging sleep status. Some institutions will also use 4% for judgment.
SpO2 is blood oxygen saturation or blood oxygen concentration. Under normal conditions, the body needs to maintain a certain level in order to effectively perform physical functions. Less than 88% is an indicator to judge whether you are in hypoxia. This data can show your hypoxia during sleep. Time percentage, some institutions will also use indicators such as 89% and 90% to judge.
This area is the total sleep time. ZionCare will determine the time to start and end sleep through the data, and the sleep latency is the length of time from fully awake to sleep.
This area is the time when your ZionCare wearable was activated, which can be understood as the timestamp of when the recording started and ended, and the sleep efficiency is the ratio between the time you fell asleep and the total time spent sleeping.
This section is a visual diagram of the blood oxygen concentration, pulse rate and respiratory rate during this sleep. You can quickly understand the minimum, maximum and average values from the corresponding pictures.
Easily accessible to manage patients and check their health anytime to support clinical decision-making.
Present data in a simple, intuitive format and raw data can be exported as CSV files for further analysis.
Working with professors and doctors to offer data analysis services and health alerts. (under development)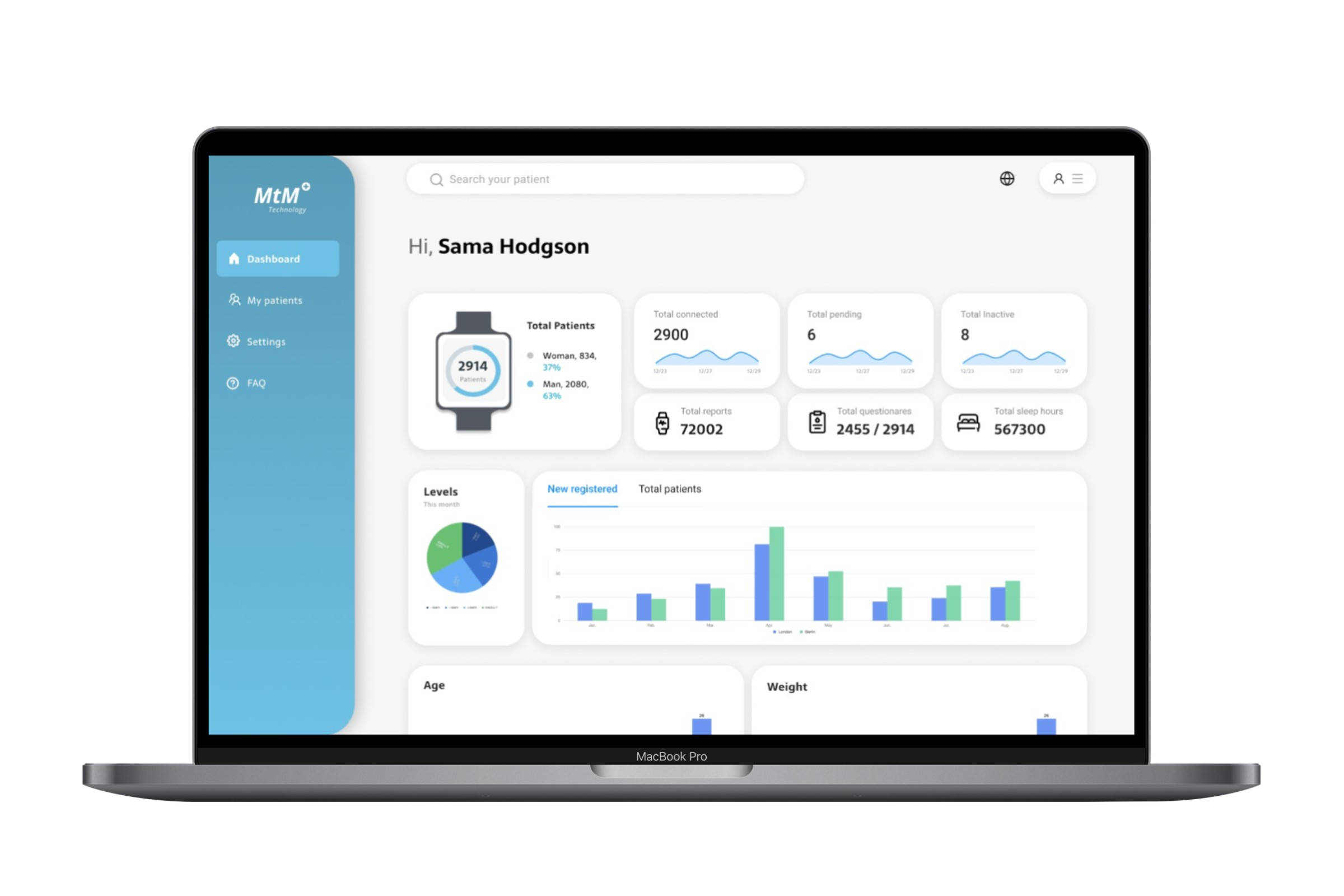 HIPAA compliant web-based portal for secure data review
ZionCare SpO2 Classification During Sleep
The current gold standard method for sleep apnea assessment is fully-night polysomnography (PSG) and apnea-hypopnea index (AHI) is the most widely used parameter derived from PSG. Based on clinical trials, the oxygen desaturation index (ODI) has a very high correlation with the AHI [1], therefore medical institutions use ODI as a reference for AHI or as an important basis for preliminary screening sleep apnea [2]. ODI can be divided into ODI3% and ODI4%, which are respectively calculated as the number of episodes of oxygen desaturation per hour of sleep, with oxygen desaturation defined as a decrease in SpO2 (recorded by pulse oximeter) to lower than 3% or 4% below baseline. Another set of parameters related to SpO2 is T90, T89, and T88, which is defined as the cumulative time (percentage) of SpO2 < 90%/89%/88% during sleep. According to various research studies [3][4][5], parameters such as ODI3%, ODI4%, T90, T89, and T88 are key indicators for screening sleep hypoxia.
Reference:
[1] Tuomas Karhu, Sami Myllymaa, Sami Nikkonen, Diego R. Mazzotti, Juha Töyräs, Timo Leppänen . Longer and Deeper Desaturations Are Associated With the Worsening of Mild Sleep Apnea: The Sleep Heart Health Study. Front. Neurosci., 28 April 2021.
[2] Huei-Chen Lin, Chien-Ling Su, Jun-Hui Ong, kun-ling Tsai, Yu-Wen Chen, Cheng-Yu Lin, Ling-Ling Chiang, Ching-Hsia Hung. Pulse Oximetry Monitor Feasible for Early Screening of Obstructive Sleep Apnea (OSA). Journal of Medical and Biological Engineering volume 40, pages62–70 (2020).
[3] Oxygen desaturation index from nocturnal oximetry: a sensitive and specific tool to detect sleep-disordered breathing in surgical patients. Anesth Analg. 2012 May; 114(5):993- 1000.
[4] Shih Hao Lin , Chantale Branson , Jamie Leung , Lisa Park , Nirmita Doshi , Sanford H Auerbach. Oximetry as an Accurate Tool for Identifying Moderate to Severe Sleep Apnea in Patients With Acute Stroke. J Clin Sleep Med. 2018 Dec 15;14(12):2065-2073.
[5] D. Temirbekov, Selçuk Güneş, I. Sayin. The Ignored Parameter in the Diagnosis of Obstructive Sleep Apnea Syndrome: The Oxygen Desaturation Index. Medicine Turkish archives of otorhinolaryngology . 1 March 2018.
[6] Lihong Chen, Weiwei Tang, Chun Wang, Dawei Chen, un Gao, Wanxia Ma1, Panpan Zha, Fei Lei, Xiangdong Tang, Xingwu Ran. Diagnostic Accuracy of Oxygen Desaturation Index for Sleep-Disordered Breathing in Patients With Diabetes. Front. Endocrinol., 09 March 2021.
[7] The Usefulness of Sleep Apnea Syndrome Screening using a Portable Pulse Oximeter in the Workplace. J Occup Health 2007: 49: 1-8.
Most frequent questions and answers